Viacheslav Oleshchenko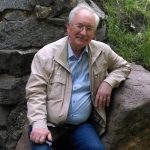 Senior researcher of the department of problems of agrarian, land, environmental and space law, Director of the Research Center of Energy, Nuclear and Resource Law of the Koretsky Institute of State and Law of the NAS of Ukraine, candidate of geographical sciences, associate professor, honored lawyer of Ukraine, laureate of the State Prize of Ukraine in Science and Technology, Acting President of the All-Ukrainian public organization "Ukrainian Geographical Society".
Graduated from Kiev Shevchenko State University (geographical faculty, 1975), National Law Academy of Ukraine named after Yaroslav Mudryi (1996). Studied, interned and researched at Oxford University, Cambridge University, Monfort University (Great Britain), Academy of Educational Development (USA), secretariats of the UN, Council of Europe, European Commission, OECD.
For a long time worked at the highest bodies of state power of Ukraine, combining public service with scientific, educational and social activities, was engaged in organization and legal support of state power, local government, territorial arrangement, public service, environmental and regional policy, adaptation of Ukrainian legislation to EU law, preservation of natural diversity, development of scientific and scientific-technical activity, spatial planning. He has developed or participated in the development of many draft laws on these and other issues. Took part in the work of many commissions, councils, working groups established by President of Ukraine, Government, in preparation of respective international agreements, as well as in international scientific and other projects of the World Bank, Global Environmental Forum, represented Ukraine for many years in working and expert bodies of UNECE, Council of Europe.
Author and co-author of more than 150 scientific papers, including 22 monographs, handbooks, commentaries to laws, textbooks. He is one of initiators and participants of preparation and publishing of "National Atlas of Ukraine" (2007), scientific adviser of "Ukrainian Geographic Encyclopedia" (in 3 volumes, 1989-1993), other encyclopedic editions.