Vasyl Kostytsky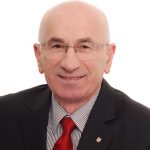 Prof. Vasyl Kostytsky is the President of the International Association of Medical Law, PhD (Doctor of Legal Sciences (Habilitated), full member of the National Academy of Law Sciences of Ukraine (academician), Full Professor of the Taras Shevchenko National University of Kyiv, the Honorable Lawyer of Ukraine.
He is one of the prominent public figures of Ukraine, a member of Parliament of I, II, and III convocations. He worked as a deputy minister in various ministries, including the Ministry of Environmental Protection of Ukraine, and other executive authorities. Author of nearly 200 draft laws, most of which were adopted by the Ukrainian Parliament.
He is one of the "fathers" of the Constitution of Ukraine of 1996, member of the Special Parliamentary Commission for Improvement of the draft Constitution.
He is known as a scientist and politician outside of Ukraine. Prof. Vasyl Kostytsky was a senior advisor to the UN European Economic Commission, member of the Parliamentary Assembly of the Council of Europe (1996-2002) – Vice-President of Christian Democrats Group of the PACE.
He has considerable experience in the sphere of education and scientific management, he was a director of scientific-research institutes and higher educational establishments. Prof. Vasyl Kostytsky teaches ecological law, sociology and philosophy of law at Ukrainian and foreign universities, etc. He is an Honorary Professor at several Ukrainian Universities.   
He formulated the main concepts of theological and sociological understanding of law, his own theory of separation of powers, substantiated the socio-economic law of permanent concentration of capital, conceptual grounds for economical and legal mechanism of environmental protection, prepared the new draft Constitution of Ukraine and the draft Ecological Code of Ukraine.
Prof. Vasyl Kostytsky wrote and published more than 400 scientific works, including 35 monographies, 18 manuals, and nearly 40 brochures.
He is awarded many stated and religious awards. Prof. Vasyl Kostytsky is a laureate of the scientific award named after Yaroslav the Wise, the winner of the Nation-wide competition for the best legal book.