Kateryna Levchenko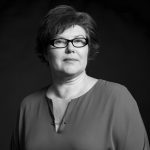 Governmental Commissioner for Gender Policy. Ph.D., Professor.
For more than 20 years Kateryna has been the head of the NGO «La Strada-Ukraine».
Deputy of Ukrainian Parliament of the 5th convocation, member of the Parliamentary Assembly of the OSCE (2006-2007). Author and initiator of improvement laws on prevention of domestic violence, strengthening of protection children, introduction of gender equality.
In 2012 she was elected by the Committee of the Parties to the Convention, and in 2016 was re-elected as a member of the Council of Europe Experts on Combating Trafficking in Human Beings (GRETA). From 2016 to 2018 she represented Ukraine at the European Commission on Gender Equality. In 2015 she became the chairwoman of the Commission on Elections of the Specialized Anti-Corruption Prosecutor. Since April 2015 Kateryna is a Member of the Commission of the President of Ukraine on issues of pardon. In 2016 – the chairwoman of the commission on the selection of candidates for positions of the Office of Human Rights Protection of the National Police of Ukraine.
She is an expert of international organizations such as the International Labor Organization, the OSCE, UNIFEM, the United Nations Development Program, the United Nations Children's Fund (UNICEF), the Council of Europe, UN-Women, the International Organization for Migration, the ECPAT, the Board member of the International Renaissance Foundation (2009-2013), and others.