Hasrat Arjjumend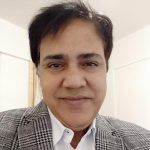 Dr., Postdoc (Montreal), PhD, MPhil, MSc, PGDEL, MA, MBA, Founder President & Programs Director, The Grassroots Institute, Canada, Senior Legal Research Fellow, Centre for International Sustainable Development, Canada, Executive & Managing Editor, Grassroots Journals, Canada.
Dr. Hasrat Arjjumend is the Founder President & Programs Director of The Grassroots Institute, Montreal (Canada). He is also associated (in honorary capacities) as Senior Legal Research Fellow with Centre for International Sustainable Development Law (CISDL), Montreal (Canada). He is Executive & Managing Editor of the Grassroots Journals (5 journals) published by The Grassroots Institute in partnership of different universities including Yaroslav Mudryi National Law University of Ukraine (Journal of Environmental Law & Policy). Educationally, he attained Postdoctorate at Université de Montréal Faculté de Droit, Québec (Canada) in Agrarian/Environmental Law, PhD in International Environmental Governance, PG Diploma in Environmental Law, MPhil in Natural Resource Management, MSc in Environmental Science, MA in Public Administration, MBA and BSc Hons in Bioscience. Additionally, he received advanced practical training from the UK, Sweden, Thailand, Russia, India, Netherlands and the USA.
Professionally, he possesses 29 years' experience of research, training, teaching, field action and organizational management, dealing with multidisciplinary areas of Environment, Natural Resources, Governance, Development, and Indigenous Rights. In the past he served, inter alia, as Assistant Professor (Natural Resources & Environmental Management) at Ethiopian Civil Service University Addis Ababa, Dean/Sr. Manager at FES Prakriti Karyashala Rural College (Rajasthan Campus India), Executive Director of Grassroots India Trust, Project Director of EU-supported IEUPC Project, Senior Program Officer at Society for Participatory Research in Asia, Research Officer at NCHSE, Biologist at Wildlife Institute of India (Govt. of India), CCV Fellow at WWF-India. For over 15 years, he contributed as Visiting/Guest Faculty to several institutions in India and Europe, apart from being a Consultant to leading NGOs. Having inherent capacities of evolving, building and developing the institutions, he acted as a leader of several people-centred initiatives & forums, and later devolved the systems after completion of institutionalization process.  Moreover, he was Mitacs Elevate Fellow 2017-20 in Canada, Commonwealth Fellow 2007 in England and Social-Impact Fellow 2008-10 in Mumbai, apart from being the recipient of CISDL Legal Research Award 2019, UNESCO-Wenhui Award for Educational Innovation 2010 (Asia-Pacific), Chairman's Gold Medal 1997-98 for in MRM Natural Resource Management, USA Charles Evans Hughes Memorial Scholarship 2007, and S.J. Jindal Trust Scholarship 1990-91. He has working exposure across half of India's geography, and working/study exposure to East Africa, South Asia, South-East Asia, Scandinavia, West Europe, East Europe, Ukraine and Canada. In his credit are about 190 publications of varied types.
His current areas of academic & action interests include Rangeland Ecosystems and Pastoral Livelihoods; Laws & Governance of Grazing Commons; Agroecology; Governance of Natural Resources; Resource Rights of Indigenous People; Agrarian Laws & Policies; Water Policies and Management.