Beata Faracik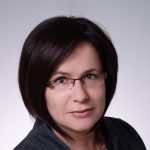 internationally recognized Human Rights & Business expert/lawyer with almost 20 years of professional experience. Her areas of expertise cover Human Rights, Human Rights & Business (BHR), Corporate Social Responsibility (CSR), International Public Law, EU internal & external policies, enabling and protecting civil society/HRDs.
She holds MA in Law, LL.M. in Human Rights and Intellectual Property Law and MA in International relations, supported by period of PhD level research in the area of Human Rights and Business at the University of Exeter, UK.
She is currently leading the Polish Institute for Human Rights and Business (PIHRB) an independent centre of expertise on Human Rights and Business, labour law and relations, social unrest and stakeholder engagement, of which is both co-founder and President of the Board. She also coordinates the work of the CSR Watch Coalition Poland and is involved on pro-bono basis in the work of the inter-ministerial Council on Sustainable Development and CSR (an auxiliary body to the Minister of Funds and Regional Development), where she coordinates the work of its Working Group on Workers, tasked with developed of the draft definition of forced labour to be included in the Polish Criminal Code and extensive guidance/toolkit for business concerning preventing forced labour /labour trafficking in the supply chain.
Beata's professional experience covers working for the civil society (Polish Institute for Human Rights and Business, Allerhand Institute, PL; NSPCC, UK), government (Senior Expert on human rights at the Ministry of Justice, PL; Ministry of Foreign Affairs – COHOM Focal Point during the Polish Presidency, Criminal Justice System, UK) and legal sector (SKS Legal Advisors). As a consultant she completed assignments for i.a. European Parliament, The Danish Institute for Human Rights, Ministry of Foreign Affairs of Poland, Ministry of Foreign Affairs of the Netherlands, Buy Responsibly Foundation, Charities Aid Foundation, etc.  She was also a member of project teams that delivered BHR-related projects for/with i.a. Orange Polska, SOMO/OECD Watch, Dutch MFA, Norwegian Export Credit Guarantees agency, Export Credit Norway, Electronics Watch, Bank BNP Paribas, Global Development Network etc.. She has also contributed as an expert to BHR-related consultations organized by public institutions and business enterprises, as well as to several of the European Parliament's DROI/AFET/INTA hearings on Business and Human Rights 2012-2017.
Her recent projects engagements (2019-2020) included Valuing Respect Project by Shift, Improving the access to remedy in CEE, Horizon2020-funded SMART project coordinated by University of Oslo, analysis of the EU legislation to support development of the toolkit for business on preventing forced labour in the supply chains (HEUNI) and co-authoring of the briefing on mandatory HRDD for the European Parliament.
Beata also taught as a guest lecturer (e.g. University of Bergen (IHRB's Master Course on Business and Human Rights), Vistula University, Leon Koźmiński Academy (programme for managers for Orange Polska), University of Warsaw, Rzeszów University, Kharkov University (UA), and is also an active member of the Advisory Boards: Advisory Business Council of the Vistula University Group (Poland); Advisory Council of the Amnesty International Poland and Council of 17, and of the expert associations and academic networks: Global Business and Human Rights Scholars Association, The BHRight Initiative for Interdisciplinary Research and Teaching on Business and Human Rights, Teaching BHR Forum. External expert at the Responsible Business Forum (Poland), Global Compact Network Poland.
She publishes in Polish and in English both in peer reviewed journals and for general public (e.g. author of the idea and support editor of 32-page supplement on BHR "Biznes i Prawa Człowieka" to "Parkiet" & "Rzeczpospolita", one of the biggest daily newspapers in Poland), and acts as a member of the Editor's Board of the Developments in the field section of the Business & Human Rights Journal by CUP, and peer-reviewer for the International Journal on Minority and Group Rights.