Anthony Ewing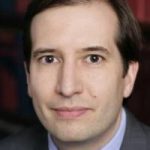 Lecturer in Law, Columbia Law School.
Anthony Ewing is a senior advisor at Logos Consulting Group, where he counsels senior executives on corporate responsibility, crisis management, and communication strategy.
His corporate responsibility practice helps companies to engage stakeholders, conduct due diligence, and implement policies and programs that effectively manage the risk of adverse human rights impacts. He also advises nonprofits on strategic planning, board relations, and strategic communications strategy. Ewing served as managing director of the consulting firm Clark & Weinstock from 1995 to 2002.
Ewing's writing and research examines corporate human rights programs and corporate responsibility best practices. He has served as an independent corporate responsibility expert for the International Labour Organization and is a member of the United Nations Global Compact Human Rights and Labour Working Group. He is a co-founder of the Teaching Business and Human Rights Forum, a platform for collaboration among teachers worldwide.
In the nonprofit sector, he has worked with Religions for Peace, the International League for Human Rights, the Inter-American Court of Human Rights, and an international development organization in Central America.
Ewing's many publications include "Mandatory Human Rights Reporting," in Business and Human Rights: From Principles to Practice, Routledge, 2016, "Integrating Human Rights into Crisis Planning," United Nations Global Compact, 2015, "What Executives Need to Know (and Do) About Human Rights," Business & Human Rights Resource Centre, 2013, and "Establishing State Responsibility for Private Acts of Violence against Women under the American Convention on Human Rights," Columbia Human Rights Law Review, 1995.
Ewing received his J.D. from Columbia Law School, where he also served as editor-in-chief of the Human Rights Law Review, and his B.A. from Yale University in 1990. He is admitted to the bar in New York and New Jersey.