Adam Lazowski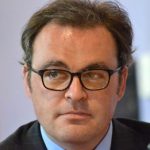 Doctor of Law, Professor of the European Union Law at Westminster University School of Law, Short-term Expert of the EU project "Association4U" (United Kingdom).
Between 1999 and 2003, he lectured at the University of Warsaw. During the next two years, he worked as a senior researcher in European law at the T.M.C. Asser Institute (The Hague). His research interests include the law of the European Union as well as public international law. His research has so far led to a number of books, articles, contributions to edited volumes and conference papers.
His works are often cited by Polish courts, including the Supreme Court and the Supreme Administrative Court.
Since 1999, Dr Lazowski has actively participated in various EU law training programmes for practitioners inter alia in Poland, Bulgaria, Romania, Slovakia and Estonia. Over the past years Dr. Lazowski delivered guest lectures at University of Surrey, University of Sussex, University of Leicester, University of Rotterdam, University of Warsaw, University of Tartu, Universite Libre de Bruxelles, the European Law Academy (ERA) in Trier, University of Zagreb, University of Luxembourg, University of Basel.