Yulia Razmetaeva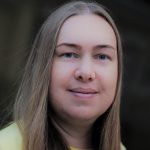 PhD, an Assistant at the Department of Theory and Philosophy of Law of the Yaroslav Mudryi National Law University.
She is the author of more than 90 scientific and analytical publications on the theory of law, human rights, civil society, law and information technology, gender equality and gender stereotypes in the digital age, business and human rights. She is co-author and trainer of the educational and practical course «Gender Studio for Future Lawyers».
She was a coordinator Spring School «Law and Digital Technologies», international educational project with Yaroslav Mudryi National Law University, Tallinn University of Technology, Mykolas Romeris University add USAID partnership. She is an expert of national and international projects, including the Erasmus+ project «European Human Rights Law for Universities of Ukraine and Moldova» (2017-2019), the «Business Human Rights Responsibilities: Experience of the V4 and Baltic Countries for Ukraine» project (2017), the research and education project «Tolerance in Post-Conflict Societies» (2016). She is the author and trainer of the certified educational program «Lawyer as a human rights defender».
Yulia Razmetaeva is a participant of the OSCE Summer School on General Theory of Law and of the Second educational session of international educational project «Philosophy of Human Rights» (2014), a Civic Tech Sisters: a program for young female leaders from Ukraine and Germany (2020). She is a member of the Kharkiv Regional Foundation «Public Alternative» and the Kharkiv Legal Society.