Yevhenii Suietnov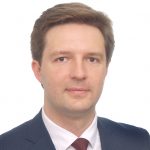 Head of the Department of Environmental Law at Yaroslav Mudryi National Law University, PhD in Law, Associate Professor.
Research interests: environmental law and policy, international environmental law, European Union environmental law, law and policy in the field of natural resources use. He researches the implementation of the ecosystem approach in environmental policy, legislation and law of Ukraine.
He is the co-author of several textbooks, monographs and manuals, and the author of more than 20 articles on environmental and land law. He is a member of the working group on improving the system of environmental education in Ukraine. He is a member of the editorial board of the Journal of Environmental Law & Policy (Canada), Administrative and Environmental Law Review (Indonesia), and Environmental Law (Ukraine).