Vladyslav Kysil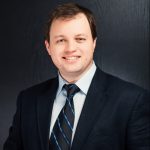 Partner of KPD Consulting Head of Real Estate and Construction Practice.
Professional activities: provision of legal support in real estate and construction. Mr. Kysil has many years of successful experience in real estate transactions, construction projects, real estate financing and syndicated lending. He is a lawyer since 2006. Vladyslav Kysil joined KPD Consulting as a partner in 2008. Before that, he practiced at SALANS international law firm. Before that, since 2004 he had worked as a legal advisor for HVB Bank Ukraine. Mr. Kysil started his career in the prosecutor's office of Kyiv in 2002. Vladyslav Kysil's professional experience includes an internship at the legal department of Bank Austria Creditanstalt AG (Vienna, Austria) 2005.
Social and educational activities: since 2010 Vladyslav Kysil is a chairman of the Legal Committee of the Ukrainian Real Estate Club (www.ureclub.com). 2014 to 2016 he was elected Deputy Chairman of the Public Council at the Ministry of Regional Development of Ukraine. Since 2013 he is a Deputy and a member of the Board of the Civil, Family and Inheritance Law Committee of the Ukrainian Bar Association. Since 2007 Vladyslav Kysil is a lecturer-instructor of the National Bank Training Center under the NBU; since 2018 he is a legal mentor of the School of Commercial Real Estate Management (a joint project of postgraduate MBA education of IIM Kyiv and the Ukrainian Real Estate Club). 2021 Mr. Kysil was appointed Secretary of the Supervisory Board of the Yaroslav Mudryi National Law University. Vladyslav Kysil is the author of numerous publications on real estate and construction in specialized legal journals.