Sven Biscop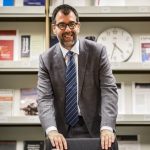 Prof. Dr. Sven Biscop (born in Willebroek, Belgium in 1976) read political sciences and obtained his PhD at Ghent University, where today he is a professor, lecturing on the grand strategy of the European Union and the other great powers, and on Belgian foreign and defence policy. In addition, he is the Director of the Europe in the World Programme at the Egmont – Royal Institute for International Relations in Brussels, the think-tank associated with the Belgian Ministry of Foreign Affairs.
Sven is an Associate Member of the Royal Academy for Overseas Sciences of Belgium, and an Honorary Fellow of the European Security and Defence College (ESDC), an EU agency where he lectures for diplomats, military and officials from all EU Member States.
Sven has been honoured with the cross of Officer of the Order of the Crown of the Kingdom of Belgium and the Grand Decoration of Honour of the Republic of Austria.