Stanislav Shevchuk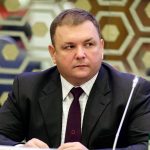 Doctor of Legal Sciences, Chairman of the Constitutional Court of Ukraine,
Corresponding Member of the National Academy of Legal Sciences of Ukraine.
He graduated from the Ukrainian Law Academy (nowadays – Yaroslav the Wise National Law Academy of Ukraine) and completed postgraduate studies at this institution, where he worked as an assistant at the Department of theory of state and law in 1996-1997. 1997-2000 – research consultant of the judge of the Constitutional Court of Ukraine. 2000-2003 – Director of the Centre for Comparative Law and its legal successor – Centre for European and Comparative Law at the Ministry of Justice of Ukraine. 2004-2009 – Professor, Department of Public Law at International Solomon University. From 2009 – Professor, Department of general theoretic and state and legal sciences at the National University of "Kyiv–Mohyla Academy".
He has extensive international experience, in particular as a UN Mission legal expert in the Republic of Tajikistan, World Bank and OSCE Project Co-ordinator in Ukraine. He completed research studies and internships on comparative constitutional law, international and European law, human rights and philosophy of law at Duke University (USA), University of Chicago (USA), University of Birmingham (UK), University of Leuven (Belgium).
2009 – 2012 – ad hoc judge of the European Court of Human Rights with respect to Ukraine. Founder of the Ukrainian Bar Association, member of Ukrainian Association of International Law.
In March 2014 Stanislav Shevchuk was appointed Judge of the Constitutional Court of Ukraine by the Verkhovna Rada of Ukraine. On February 21, 2018 he was elected Chairman of the Constitutional Court of Ukraine
Member of research and advisory boards of the Supreme Court of Ukraine and the High Administrative Court of Ukraine, Research and Methodological Council of the National School of Judges of Ukraine.
Areas of scientific research: theory of delegation of state powers, analysis of the role of court in the process of law formation in the world and Ukrainian practice, normativity of acts of judicial power, theory of judicial precedent, problems of the constitutional jurisdiction, European human rights law, comparative law research, development of methodology for adaptation of the Ukrainian legislation to the EU law.
Author of over 120 research publications on the theory of state and law, constitutional law, human rights, including 12 monographs (including 6 as a sole author).