Olena Dashkovska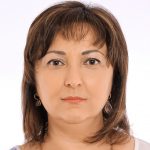 Doctor of Law, Professor, Department of Theory and Philosophy of Law, Yaroslav Mudryi National Law University.
Professor Olena Dashkovska was at the origins of the development of legal doctrine on gender equality in Ukraine. In 2008 she defended her dissertation for the degree of Doctor of Law "Legal status of women in the context of gender equality: general theoretical analysis", 12.00.01 "Theory and History of Law; History of Political and Legal Doctrines ", which became the first fundamental work on this issue in the national academic field.
During her many years of research and teaching, Olena Dashkovska has published more than 160 scientific papers on the theory of law, human rights, gender equality, anti-discrimination policy, freedom of speech and information, rule of law, including many publications in foreign academic journals, indexed on Web of Science platform.
Olena Dashkovska is the author and co-author of many textbooks, manuals and monographs, including textbooks "General Theory of Law", "History of the Doctrines of State and Law", collective monographs: "The Great Ukrainian Legal Encyclopedia: in 20 volumes." Volume 3: General Theory of Law, "Legal Doctrine of Ukraine in 5 volumes", monographs: "Women as a subject of law in terms of gender equality", "Evolution of the socio-political status of women: historical and legal aspect" and others. She is the co-author of the gender promotional course "Gender Studies for Future Lawyers".
Prof. O. Dashkovska is the Scientific Secretary of the Scientific Advisory Board D 64.086.04 at the Yaroslav the Wise National Law University and a Member of the Editorial Board of collections of scientific papers "State Building and Local Self-Government", "Economic Theory and Law", "Philosophy of Law and General Theory of Law".
Olena Dashkovska is a speaker of master classes, coordinator and moderator of gender educational programs of public organizations and local governments. Member of the Union of Lawyers of Ukraine and Kharkiv Law Society.
Olena Dashkovska's research interests include human rights, rule of law, gender equality, minority rights, international human rights standards, freedom of speech and information, freedom of association, information society, legal values, sources of law, distance education, legal principles of state formation, separation of powers.