Naeem Shahzad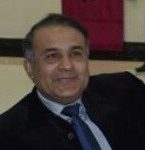 Associate Professor, PhD, Head of Department.
I have done PhD in Environmental Engineering and Post Graduate Certification in Disaster Management. My current research focuses on the environment and climate change, and I have led many Masters level research on related topics.
Presently I am serving as Head of Department Water Resource Engineering & Disaster Management at the National University of Sciences and Technology, Pakistan. I have authored several International and National high impact journals and presented my research work in numerous International Conferences both inland and abroad. Besides, I have attended several international training and workshops under both UN and non-UN organisations.