Nadiya Stefaniv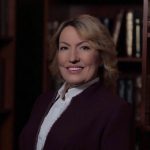 Justice of the Supreme Court. President of the All-Ukrainian Association of Women Judges. Lecturer of the National School of Judges of Ukraine.
Nadiya Stefaniv was a member of the developers group of educational trainings for judges «Evidence and Proving in the Criminal Procedure», «Peculiarities of Consideration of Cases Against Traffiking in Human Beings», «Anticorruption Legislation», «Writing Judgements in Criminal and Civil Proceedings» and others in National School of Judges of Ukraine (Kyiv, Ukraine, 2016).
Graduate of the International Law «Rule of Law, Democracy and Human Rights» (Hague, Netherlands, 1997), International Human Rights Course (Warsaw, Poland, 2007), International Educational Program «Prevention and Response to Gender Violence – Strengthening the Change Agents» (Stockholm, Sweden, 2018).