Mykola Gnatovskyy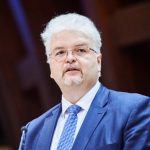 Judge at the European Court of Human Rights.
Dr Mykola Gnatovskyy (born in 1977) holds LL.M. (1999) and Ph.D. (2002) in International Law. He is the author of many publications on European and international human rights law, as well as international humanitarian law and international criminal law.
Since 2002, he has taught at the Institute of International Relations of Taras Shevchenko National University of Kyiv and cooperated with the International Committee of the Red Cross as an academic partner.
In 2009–2021 Dr Gnatovskyy was a member of the European Committee for the Prevention of Torture and Inhuman or Degrading Treatment or Punishment (CPT).
He served as Vice-President of the CPT for two years (2013–2015) and as President of the CPT for six years (2015–2021).
Since June 2022 he serves as judge of the European Court of Human Rights elected in respect of Ukraine.