Dr. Phil. Radim Žák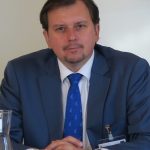 The ICMPD Regional Coordinator for Eastern Europe and Central Asia (EECA), is responsible for conceptualisation, development and implementation of regional strategies, as well as for the functioning of the Prague Process Secretariat involving 50 participating states, EU institutions, international organisations and other partners. He has a background in philology, Russian studies and in the Theory of Area Studies, as well as extensive experience in practical co-operation with the Eastern Partnership countries, Central Asian states and Russia in addressing migration issues. After his short journalist career (1999-2001), he worked for the Czech Ministry of the Interior (2001-2004), passed a traineeship with UNHCR Geneva (2003) and joined ICMPD in March 2004 with the initial objective to re-direct the Budapest Process to the Commonwealth of Independent States region. In between his roles in the Budapest Process and the Prague Process, Mr. Žák joined project teams implementing thematic projects within the EECA region, including BOMCA 4 back in 2005 – 2006, Ukraine document
security project (2006-2008) as well as the GDISC ERIT Ukraine project (2008-2010).
The topic of the speech: "Impact of COVID-19 on migration, mobility, border management and security".