Darya Kondratyeva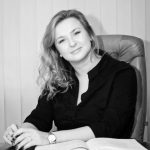 Attorney, International Law Firm H/W/S Mapalaw; Law Firm Kodalex founder.
Darya is a qualified attorney with 2 law degrees in two jurisdictions: Yaroslaw Mudryi National Academy of Law of Ukraine in 2004 and University "Cattolica del Sacro Cuore" of Milan (Italy) in 2016.
Born in Kharkiv (Ukraine), Darya has started her career in 2004 as in-house lawyer for an important construction company at Kharkiv. In 2006 she became a State Notary in Kharkiv Region of the Ukraine.
In 2007 she obtained the license of private Notary and started her own notary practice at the Kharkiv Region, focusing her activity mainly on real estate and corporate transactions.
In 2011 she has moved to Italy to study law at Catholic University of Milan. Successfully graduated in 2016 with the thesis in commercial law under direction of Prof. Gaetano Presti: Limited liability companies in Italy, Ukraine and Russia, she has joined International Law Firm H/W/S Mapalaw where she focuses mainly on commercial and corporate law issues, international contractual consulting, assisting, amongst other, Italian companies and natural persons in the markets of Eastern Europe and vice versa.
BAR admissions: Ukraine (2012) and Italy (2018).
Darya is registered at the Milano's Chamber of Commerce as expert in certified translations from/to Italian, English, Russian and Ukrainian.
Also Darya is registered CTU of the Court of Milan (Court's technical consultant) in linguistic matters and, therefore, is authorized to carry out legally recognized sworn translations/interpretations from (to) Italian, Russian and Ukrainian.