Daria Nagaivska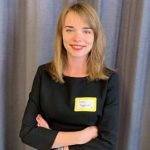 PhD, expert of the Corporate Equality Index, project manager in the NGO "Actual Woman", co-founder of "Business and Human Rights" Club.
Daria supports development of women entrepreneurship and collaborates with small and medium Ukrainian enterprises in marketing strategy's development, business-planning and entering foreign markets. She coordinates work of the Center of small and medium enterprises development in the Project "Centre of Gender Culture as a Platform for Empowerment of Woman and Youth" funded by the European Union and organizes meetings of the "Business and Human Rights" Club.
Certified trainer by the National Democratic Institute, Daria conducts trainings and information sessions about gender and corporate equality for different professional groups. Nagaivska organizes and moderates thematic public discussions and business meetings with the active participation of small, medium and large enterprises, influencers and NGO's. A former representative of GFGZ (Gesellschaft zur Förderung der grenzüberschreitenden Zusammenarbeit, Switzerland) in Eastern Europe, Daria is Head of the Secretariat in Kharkiv Reforming Coalition that unites 13 local NGO's.
After graduating Simon Kuznets Kharkiv National University of Economics (master degrees in marketing and business-administration) and the University Lyon 2 (master degree in "Tourism, cultural heritage and leisure activities"), Daria worked in Marketing department at Eiffel Tower Operating Company in Paris. In 2018 Nagaivska defended PhD Thesis "Ensuring a social responsibility of business in the market of food products".