Borut Eržen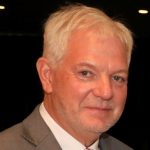 Border Management and Security Programme, Head.
As Head of Programme, Border Management and Security at ICMPD Headquarters in Vienna, Borut Eržen has been involved in numerous border management projects in the EU, the Balkans, Eastern Europe, the South Caucasus, Central Asia, Africa and Latin America. He also works as an expert on different topics related to border management and border security.
Borut has a degree in criminal justice from the University of Ljubljana and holds an LL.M from the European Law Faculty in Ljubljana.
Borut has also 38 years' experience working in senior management positions in the Slovenian Police and Ministry of the Interior. At the operational level, Borut was responsible for management of police units dealing with organised crime, public
order and border management.
He also served on secondment to the EU-led police missions in Albania, Kosovo and Macedonia, where he held senior positions with responsibility for police reforms, legislation, security sector reforms and border management.
In the area of Integrated Border Management (IBM), Borut is one of the co-authors of Guidelines for Integrated Border Management in EC External Cooperation (2009).