Audrius Poviliunas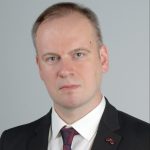 Investigator and OLAF Foreign Liaison Officer.
Audrius Poviliunas has been working for OLAF since 2006. As an investigator, he was specialising in cases of subsidy fraud in relation to the EU structural funds. In 2018, he joined the EU Delegation to Ukraine as an OLAF foreign liaison officer. In Kyiv, he has been dealing with a broad spectrum of issues related to the protection of the EU financial interests, including cooperation on revenue, expenditure and policy matters.
Audrius Poviliunas is a member of the Association of Certified Fraud Examiners. He is a graduate of Vilnius University, Lund University and the College of Europe.