Criminal Threats in the Security Sector: An Effective Counteraction Practice
Panel discussion
Moderators
Doctor of law
Doctor of Legal Science, Professor, Head of the Department of Criminology and Criminal Execution Law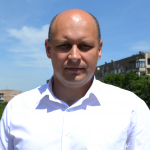 PhD, Associate professor of the Department of Criminology and Criminal Execution Law
Panel Dicussion Secretary
World trends of cybersecurity in the conditions of digitalization
First session
The aim of the discussion is to suggest an adaptable model of the national cybersecurity system, provide recommendations for improving the regulatory and legal mechanism for providing protection against information threats in cyberspace.
Possible topics and areas for theoretical discussion:
the state in a smartphone: the development of digital infrastructure, digital identification and cybersecurity in Ukraine;
current trends in the development of cyber threats in Ukraine and in the world;
the militarization of cyberspace and information war against sovereign states;
Darknet, shadow business and organized crime;
interaction of the state and business in the sphere of cybersecurity;
IT communications and cybersecurity;
modern methods of personal data protection and confidential information on the way from devices to cloud storage;
evil payment systems and methods of protection;
features of cybersecurity for objects of critical infrastructure;
Modern technologies of counteraction to cybercrime: world experience and Ukrainian context;
digital literacy of a person in the postmodern age;
problems of cybercrimes` qualification;
particularities of investigating cybercrimes
Smart-technology and startup projects to create a safe and convenient city space
Second session
The aim of the discussion is to search for creative ideas and technological solutions in the field of the digital transformation of the urban environment, popularize the use of online tools and intelligent systems in the management of urban infrastructure, public safety and increase the level of comfort of living in cities.
Possible topics and areas for theoretical discussion:
achievements and prospects of infrastructural, technological and social development of modern cities;
urban mobility and road safety;
the capabilities of intellectual video analytics in monitoring the security of urban traffic, detecting offences and emergencies, tracing people and property;
realization of startup projects in the field of sustainable development of cities and the improvement of local self-government;
safe cities lead to safe country;
redesign of urban areas;
Internet stuff that makes life convenient;
business involvement in transforming cities;
innovative technologies in counteracting crime in big cities
September 26, 2019
9:30am – 6:30pm
Library&Learning Center of the Yaroslav Mudryi National Law University, Conference Hall, 10th floor
9 hours
580 UAH
https://secure.wayforpay.com/button/b33b5229a868b
Speakers
Thank you for registration!!
Dear Colleague,
Thank you for registering to attend the ІІІ Kharkiv International Legal Forum.
We look forward to your participation. An official invitation would soon be sent to your email. Any queries, please email to forum@nlu.edu.ua.
See you at IІI Kharkiv International Legal Forum on September 24-28, 2019!
Co-Chairman of Organizing Committee
Rector of Yaroslav Mudryi National Law University
Vasyl Tatsii