Vadim Triukhan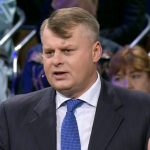 Head of the NGO "European Movement Ukraine"
1997-2011 – worked at the diplomatic service of Ukraine in Legal and Legal Directorate, the Secretariat of the State Secretary for European Integration, the Consular Department and the Department of the European Union of the Ministry of Foreign Affairs of Ukraine, and also at the Main Directorate of Foreign Policy of the Presidential Administration.
He was a member of the OSCE Mission in Croatia (2000-2001), the Council of Europe Mission to Kosovo (2002).
In 2008-2010 – Director of the Coordination Bureau for European and Euro-Atlantic Integration of the Secretariat of the Cabinet of Ministers of Ukraine.
In 2010-11 – Ambassador on special missions of the Ministry for Foreign Affairs of Ukraine.
Since 2015 – Chairman of the Board of the NGO "European Movement of Ukraine".
Since June 2017 – a member of the Civic Council of the Ministry of Information Policy of Ukraine.