Liliya Hrynevych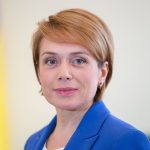 Minister of Education and Science.
Ms. Liliya Hrynevych has two degrees: a biochemist-teacher and an economist manager. She is a candidate (PhD) of Pedagogical Sciences.
She worked as a teacher, Deputy Director and Director of the school, Lecturer at the universities, Head of the Education and Science Department of the Kyiv City State Administration, trained at the Warsaw University and Columbia University. Engaged in research activities at the National Academy of Pedagogical Sciences.
She worked at the creation of the system of the external independent testing in Ukraine and was the first Director of the Ukrainian Center for Educational Quality Assessment.
In 2012 she was elected as an MP to the Ukrainian Parliament leading the Parliamentary Committee for Science and Education, of which she was the Head until 2016.