Erwin Seyfried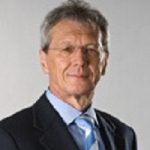 Doctor of Law, Professor, Berlin School of Economics and Law (Germany)
Professor of Organisational and Administrative Psychology at the FHVR Berlin (now Berlin School of Economics and Law – BSEL) since 1993.
Head of the inter-disciplinary research centre for vocational training, the labour market and evaluation (FBAE) at the FHVR Berlin (since 1994).
Responsible for the master's distance learning programme "European Administrative Management" (since 1999).
Dean of Faculty I at the FHVR Berlin (2003-2005)
Director of the distance learning institute of the BSEL (since 2008).
Provides expert opinions and develops concepts concerning the implementation of European policies and programmes in the fields of vocational training and employment for EU institutions (the EU Commission, CEDEFOP – European Centre for the Development of Vocational Training), federal and regional government ministries.
Academic expert for the European Commission and CEDEFOP on quality and quality assurance in vocational training.