Women Lawyers: inspirational leadership and design thinking for urban renovation
Happening
Moderators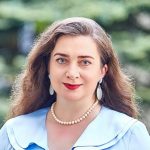 PhD, Associate Professor, Criminal Law Department No. 1, Yaroslav Mudryi National Law University. PhD in Law and qualified lawyer with 15 years of experience in research and teaching activities, including development and implementation of thе «Criminal Law Issues in the ECHR Practice» and «Main Trends of Modern Criminal Law» courses into the University's educational process. […]
Platforms for discussion :
women lawyers as a creative class
design thinking as a process of creating innovations in a turbulence era
a modern city as a diversity and development laboratory.
Who attends the event: anyone who is interested in career growth and female leadership, opportunities for hunting on the legal market, the potential of design thinking and urban studies, and the development of modern cities, the direction of "law & art" and the art of diversity.
Possible themes include:
career dynamics of women lawyers
women in leadership positions and the destruction of the glass ceiling
causes of stagnation around gender parity issues in the legal field
challenges of the legal market and creativity of women
women – clients of the business and the secret of the negotiating rooms
diversity and Inclusiveness as a Strategy for Legal Thinking and Legal Practice
a woman in the courtroom
education, career start and the art of personal brand
"my brilliant career": achievement of professional goals in balance with personal life
mentoring in the legal profession and women's solidarity
gender icebergs and the image of a big city
law, urbanism and spaces of diversity
creative actions in the city 
Q&A 
Split-Event: Art Project "Heterotopias". Participants of the Art Project are artists Pavlo Makov, Vachagan Narazyan, Roman Minin, sculptor Sergii Shaulis.
September 27, 2019
9:30am – 1:30pm
Cultural space of the Yaroslav Mudryi Library&learning Center, 6th floor
4 hours
300 UAH
https://secure.wayforpay.com/button/bcedcdc716f57
Speakers
Thank you for registration!!
Dear Colleague,
Thank you for registering to attend the ІІІ Kharkiv International Legal Forum.
We look forward to your participation. An official invitation would soon be sent to your email. Any queries, please email to forum@nlu.edu.ua.
See you at IІI Kharkiv International Legal Forum on September 24-28, 2019!
Co-Chairman of Organizing Committee
Rector of Yaroslav Mudryi National Law University
Vasyl Tatsii