Role of the Bitbon System in the Development of the New Information Economy Based on the Blockchain Technology
Open lecture

Aim: a comprehensive analysis of the role and importance of the Bitbon System in developing a new market of information resources and services based on the Blockchain technology.
The following issues will be discussed:
classification of Blockchain tokens based on economic functions;
prospects of integrating the Bitbon System with the real sector of economy;
methodological approaches to determining if a Blockchain token is a digital asset.
September 26 2019
13.00-14.00
1 hour
Free
Speakers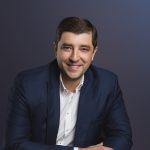 Thank you for registration!!
Dear Colleague,
Thank you for registering to attend the ІІІ Kharkiv International Legal Forum.
We look forward to your participation. An official invitation would soon be sent to your email. Any queries, please email to forum@nlu.edu.ua.
See you at IІI Kharkiv International Legal Forum on September 24-28, 2019!
Co-Chairman of Organizing Committee
Rector of Yaroslav Mudryi National Law University
Vasyl Tatsii