Myths in law
Open Lecture
Does law really regulate all those relations, which it is supposed to regulate, or in many "legal" situations individuals tend to avoid rigid legal regulation and use informal rules? Are Kantian moral philosophy ("start with your self") and criminal law the best tools to fight against corruption? Does the rule of law mean something more than the rule of the law approved by the state or, in fact, opposition of the rule of law and the rule of the law result in strengthening state arbitrariness? Do constitutional provisions on democracy have any sense in the real world, or contemporary complicated and sophisticated political systems have changed the people into silent witnesses of the rule of politicians and bureaucrats?
Employing contemporary social, economic and political studies, Dr Dmytro Vovk tries to find out whether and to what extent these stereotypes and myths in the field of law correlate with reality.
September 26, 2019
09.30 - 12.00
Lecture Hall №1, Main Building, Yaroslav Mudryi National Law University
2 h 30 min
free
Lecturer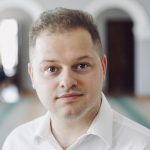 Dr. Dmytro Vovk runs the Center for Rule of Law and Religion Studies at Yaroslav Mudryi National Law University in Kharkiv, Ukraine. He teaches law at the same university and, as a guest lecturer, at the Ukrainian Catholic University. Dr. Vovk was a Kennan-Fulbright fellow at Woodrow Wilson Center in Washington, DC and a visiting […]
Thank you for registration!!
Dear Colleague,
Thank you for registering to attend the ІІІ Kharkiv International Legal Forum.
We look forward to your participation. An official invitation would soon be sent to your email. Any queries, please email to forum@nlu.edu.ua.
See you at IІI Kharkiv International Legal Forum on September 24-28, 2019!
Co-Chairman of Organizing Committee
Rector of Yaroslav Mudryi National Law University
Vasyl Tatsii