Freedom of Religion or Belief and Security: Fresh OSCE/ODIHR Policy Guidance and Ukraine
Workshop
On 19 September 2019 OSCE Office for Democratic Institutions and Human Rights will launch its fresh Freedom of Religion or Belief and Security: Policy Guidance. The document defines guiding principles to help guide OSCE participating states in formulation and implementation measures, policies and laws to guaranty both freedom of religion or belief and security. Then the guidance discusses concrete issues of relevance at the intersection of freedom of religion or belief and security, including:
registration and de-registration of religious or belief communities and security;
"extremist" speech and literature and security;
screening, monitoring and searching in places of worship and meeting places and security;
restriction on conversion and limitation on religious or belief community activities that have a foreign connection.
The policy guidance is not binding for OSCE participating states. However, it can and should be taken into account by policymakers, legislators, governmental officials and judges while working on relevant laws, policies and practices and delivering justice in freedom of religion or belief and security cases.
The event will start with a small lecture delivered by Dr. Dmytro Vovk, head of NLU Center for Rule of Law and Religion Studies. Then participants of the event will be able to join the discussion.
september 27 2019
14.30
The 11th hall in the central building of Yaroslav Mudryi National Law University, Pushkinskaya str., 77
Lecturer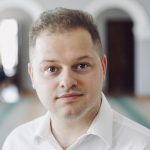 Dr. Dmytro Vovk runs the Center for Rule of Law and Religion Studies at Yaroslav Mudryi National Law University in Kharkiv, Ukraine. He teaches law at the same university and, as a guest lecturer, at the Ukrainian Catholic University. Dr. Vovk was a Kennan-Fulbright fellow at Woodrow Wilson Center in Washington, DC and a visiting […]
Fill form to finish the registration
Thank you for registration!!
Dear Colleague,
Thank you for registering to attend the ІІІ Kharkiv International Legal Forum.
We look forward to your participation. An official invitation would soon be sent to your email. Any queries, please email to forum@nlu.edu.ua.
See you at IІI Kharkiv International Legal Forum on September 24-28, 2019!
Co-Chairman of Organizing Committee
Rector of Yaroslav Mudryi National Law University
Vasyl Tatsii