European Integration through lenses of Constitutional Law
Panel discussion
Moderators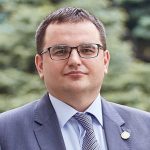 Dr., Prof., Vice-Rector of the Yaroslav Mudryi National Law University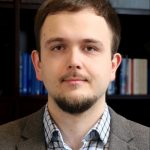 Project coordinator and researcher, Konrad Adenauer Foundation Office in Ukraine (Kharkiv) 
During the acceptance of the Constitution of Ukraine in 1996, ruling elite was on the crossroads in determining foreign policy priorities. In fact, on the constitutional level a conservation of so called «socialist conquests» happened, combined with attempts to implement a system of European legal values into political-legal field. At the same time the parliament and the president received an almost discretional right to change the direction of foreign policy activity after every electoral cycle.
We cannot state with a 100% surety, despite two «maidans», one of them leading to casualties, Crimea annexing and East armed conflict, that they were in one way or another conditioned by the fact that in more than 20 years-long independence, Ukraine hasn`t produced its own integration strategy to European and Euro-Atlantic structures.
Last year`s amendments to the Constitution of Ukraine, as their authors expect, have to put an end to a discussion in direction of civilized Europe once and for all. However even now much more sceptics appear with skepticism towards mentioned constitutional novels being able to limit representative bodies during acceptance of foreign policy decisions, becoming an effective control tool over such decisions from Constitutional Court`s side.
Herewith it is impossible not to notice that mentioned way was passed with greater success and much faster by Ukraine`s western neighbors without existense of corresponding guides in their own Constitutions. In addition to that the wave of populism and nationalism, that has swallowed European continent, can most probably place doubts on the firmness of integrational values and summon some skepticism towards chosen course of actions in Ukrainian society.
Already we can admit the existence of problems, which public law has collided, performing duties connected with European and Euro-Atlantic integration.
Firmness of European integration in conditions of strengthening influence of nationalist-populist flows in EU countries` policy;
Protection of territorial integrity by constitutional means under conditions of permanent expansion of freedom of speech and aggressive policy from Russia`s side;
Evaluated nature of such constructs as «European and Euro-Atlantic integration» and borders of parliament`s (head of the state) political discretion when making foreign policy decisions;
Not understanding by majority of population the importance of protection of European values in the process of forming representative bodies;
Discord in legal positions of pan-European judicial bodies and national justice in questions regarding transitive justice, lustration and limitation of rights and freedoms for specific categories of citizens, caused by extended armed conflict on the territory of Ukraine;
Undecided question about reforming security sector on the way to Ukraine`s entry to NATO structures.
Candid professional discussion by panel`s participants shall promote solving mentioned problems with mentioning further topics for debates:
Constitutional policy of Eastern Europe and Baltic countries on their way to EU and NATO: lessons for Ukraine
A system of European values: before and after Brexit
Territorial integrity as a value of Ukraine`s constitutional order (essence, peculiarities, possibility of guaranteeing it under conditions of harmonization with EU standards).
Constitutional and higher courts` role in mechanism of providing European and Euro-Atlantic integration
«Integrational» aspect of referendum institution for deepening cooperation in EU and NATO framework.
«Militant» democracy in contemporary circumstances: ephemeral efficiency in case of tension in nationalist movements
«Informational» guaranties of state sovereignty of former USSR states, that move towards EU
Reformation of law-enforcement bodies and security sector in circumstances of aspirant Ukraine status in NATO
Panel`s architectonic includes its division into two parts, each including 2 sectional discussion:
(I) Constitution and European Integration: a view from Baltic to Black Sea
а) European values system under Constitution`s protection
b) Political actors` legal role in terms of European Integration
(II) Current trends of the Common EU Security and Defense Policy development
a) European Union Defense Reform:
Prospects of EU-Ukraine cooperation in foreign and security policy. 
Prospects of EU-NATO security and defense cooperation.
b) Balancing National Security and Human Rights:
Universal international law on limiting human rights under national security threats.
ECHR practice on protecting legitimate national security interests and permitted human rights limitations.
September 24, 2019
11.30 am – 6.30 pm
Library&Learning Center of the Yaroslav Mudryi National Law University, Conference Hall, 10th floor
September 25, 2019
9.00 am – 13.30 pm
Academic Council Hall N6, Yaroslav Mudryi National Law University main building, Pushkinskaya Str. 77
-
Free
Speakers
Thank you for registration!!
Dear Colleague,
Thank you for registering to attend the ІІІ Kharkiv International Legal Forum.
We look forward to your participation. An official invitation would soon be sent to your email. Any queries, please email to forum@nlu.edu.ua.
See you at IІI Kharkiv International Legal Forum on September 24-28, 2019!
Co-Chairman of Organizing Committee
Rector of Yaroslav Mudryi National Law University
Vasyl Tatsii